Standalone Credit
Avarda Standalone Credit
For merchants where full Avarda checkout solution is not possible or desired. Credit products, Invoice, Loan and Part payment supported for markets DK, FI, NO, SE .
Solution is based on APIs and merchant handle the user dialog. ElectronicID can be required for some scenarios – merchant then redirects user to Avarda where strong authentication can be performed.
What needs to be prepared?
Sign Agreement with Avarda. Contact sales@avarda.com if you want to know more or get help.
Avarda creates user credentials for API:s and configure payment methods and options.
Merchant installs E-com module or integrates towards Avarda API.
Test, Launch and Go live.
Avarda Standalone credit process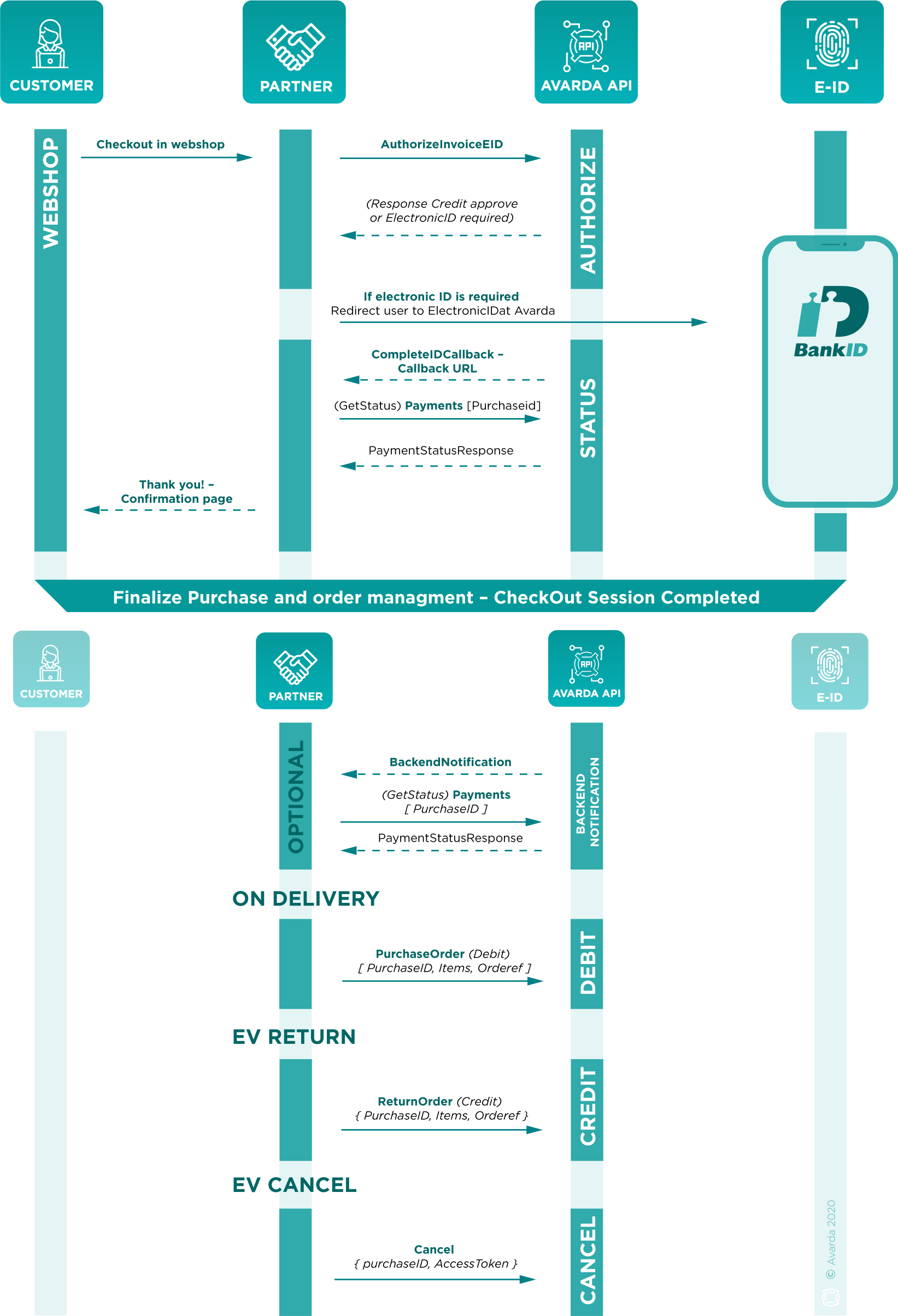 Description
Post authorization request to Avarda API AuthorizeDirectInvoiceEID
Check response – if no electronic ID validation is required then response message contains everything to complete the order.
IF ELECTRONIC ID VALIDATION IS REQUIRED:

Check response – if electronic ID validation is required then response contains only purchaseid and IsElectronicValidationNeeded = true. Merchant now needs to redirect the user to a predefined URL where Avarda offer ElectronicID validation. URL:
/CheckOut2ElectronicId/?externalId=[PURCHASEID]&returnUrl=[yourreturnurl.com]
After electronicID validation is performed then Avarda redirect back to defined returnURL. Example: https://yourreturnurl.com/?externalId=d736dd5fea853b18a30fd2413ebfcab5&status=OK

Merchant checks status on the purchase via GetPaymentStatus. If ok then fulfill the order.
On delivery – post request to PurchaseOrder
If return – post request to ReturnOrder
Contact
SWEDEN 🇸🇪
info@avarda.se
Phone +46 10 161 33 10
FINLAND 🇫🇮
info@avarda.fi
Phone +358 0203 36 006